het snow_E met de parel skateboard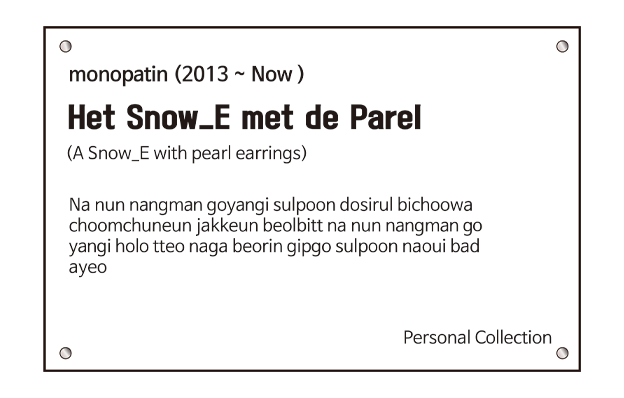 ---
to be assembled by a skater
use the best monopatin's parts
you have only to enjoy
---
deck : het snow_E met de parel skate deck
trucks : chosen among the hollow trucks monopatin made.
wheels : we made and chose (conical shape or classic shape).
hardware : jet black or gold color allen hardware (7/8" or 1")
griptape : monopatin standard griptape for skateboards
bearings : abec 9 bearings for skateboarding
---
if you want to know which parts are assembled just for you, please "contact us"
size and design of deck is your choice, but the rest of the parts will change every night
한국어

---

+ 데크 : het snow_E met de parel skate deck

+ 트럭 : 모노파틴에서 제작되는 최신의 할로우 트럭중 선별됩니다

+ 휠 : monopatin 의 conical shape 또는 classic shape 휠

+ 하드웨어: 제트 블랙 컬러 혹은 골드컬러의 육각 볼트(7/8 inch 또는 1 inch)와 너트

+ 그립테이프 : 스케이트보드용 모노파틴 스탠더드 블랙 그립테이프

+ 베어링 : 스케이트보드전용 아벡9 베어링

---

"monopatin" 스케이트보드의 모든 부품은

10년이상의 커리어를 가진 스케이터들에 의해 직접 선별되며,

모노파틴社의 가장 최신 파츠로만 조립 되어 출고됩니다